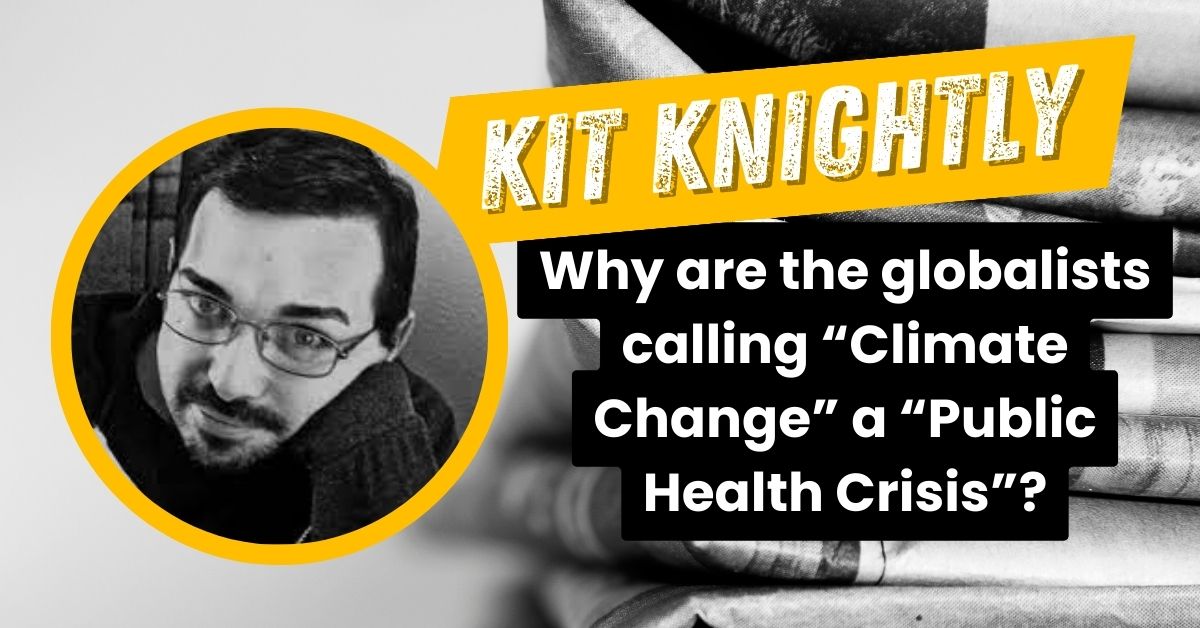 The answer is all to do with the pandemic treaty and climate lockdowns.
By Kit Knightly
The global elite plan to introduce a near-permanent "global state of emergency" by re-branding climate change as a "public health crisis" that is "worse than covid".
This is not news. But the ongoing campaign has been accelerating in recent weeks.
I have written about this a lot over the last few years – see here and here and here. It started almost as soon as Covid started, and has been steadily progressing ever since, with some reports calling climate change "worse than covid".
But if they keep talking about it, I'll keep writing. And hopefully the awareness will spread.
Anyway, there's a renewed push on the "climate = public health crisis" front. It started, as so many things do, with Bill Gates, stating in an interview with MSNBC in late September:
"We have to put it all together; it's not just climate's over here and health is over here, the two are interacting."
Since then there's been a LOT of "climate change is a public health crisis" in the papers, likely part of the build-up to the UN's COP28 summit later this year.
Following Gate's lead, what was once a slow-burn propaganda drive has become a dash for the finish line, with that phrase repeated in articles all over the world as a feverish catechism.
It was an editorial in the October edition of the British Medical Journal that got the ball rolling, claiming to speak for over 200 medical journals, it declares it's…
"Time to treat the climate and nature crisis as one indivisible global health emergency."
Everyone from the Guardian to the CBC to the Weather Channel picked up this ball and ran with it.
Other publications get more specific, but the message is the same. Climate change is bad for the health of women, and children, and poor people, and Kenyans, and workers and…you get the idea.
And that's all from just the last few days.
It's not only the press, but governments and NGOs too. The "One Earth" non-profit reported, two days ago:
"Why climate change is a public health issue."
Again, based entirely on that letter to the BMJ. The UN's "climate champions" are naturally all over it, alongside the UK's "Health Alliance on Climate Change", whoever they are.
Both the Red Cross and Doctors Without Borders have published (or updated) articles on their website in the last few days using variations on the phrase "The climate crisis is a health crisis".
Local public health officials from as far apart as Western Australia and Arkansas are busy "discussing the health effects of climate change".
Tellingly, the Wikipedia article on "effects of climate change on human health" has received more edits in the last 3 weeks than the previous 3 months combined.
All of this is, of course, presided over by the World Health Organization.
On October 12th the WHO updated its climate change fact sheet, making it much longer than the previous version and including some telling new claims:
WHO data indicates 2 billion people lack safe drinking water and 600 million suffer from foodborne illnesses annually, with children under 5 bearing 30% of foodborne fatalities. Climate stressors heighten waterborne and foodborne disease risks. In 2020, 770 million faced hunger, predominantly in Africa and Asia. Climate change affects food availability, quality and diversity, exacerbating food and nutrition crises.
Temperature and precipitation changes enhance the spread of vector-borne diseases. Without preventive actions, deaths from such diseases, currently over 700,000 annually, may rise. Climate change induces both immediate mental health issues, like anxiety and post-traumatic stress, and long-term disorders due to factors like displacement and disrupted social cohesion.
They are tying "climate change" to anyone who is malnourished, has intestinal parasites or contaminated drinking water. As well as anyone who dies from heat, cold, fire or flood. Even mental health disorders.
We've already seen the world's first "diagnosis of climate change". With parameters set this wide, we will see more in no time.
Just as a "Covid death" was anybody who died "of any cause after testing positive for Covid", they are putting language in place that can redefine almost any illness or accident as a "climate change-related health issue".
Two days ago, the Director General of the World Health Organization, the UN's Special Envoy for Climate Change and Health and COP28 President co-authored an opinion piece for the Telegraph, headlined:
"Climate change is one of our biggest health threats – humanity faces a staggering toll unless we act."
The WHO Director went on to repeat the claim almost word for word on Twitter yesterday. 
At the same time, the Pandemic Treaty is busily working its way through the bureaucratic maze, destined to become law sometime in the next year or so.
We've written about that a lot too.
Consider, the WHO is the only body on Earth empowered to declare a "pandemic".
Consider, the official term is not "pandemic", but rather "Public Health Emergency of International Concern".
Consider, a "public health emergency of international concern", does not necessarily mean a disease.
It could mean, and I'm just spit-balling here, oh, I don't know – maybe… climate change?
Consider, finally, that one clause in the proposed "Pandemic Treaty" would empower the WHO to declare a PHEIC on "precautionary principle" [my emphasis]:
"Future declarations of a PHEIC by the WHO Director-General should be based on the precautionary principle where warranted."
Essentially, once the new legislation is in place, the plan writes itself:
Put new laws in place enabling global "emergency measures" in the event of a future "public health emergency"

Declare climate change a public health emergency, or maybe a "potential public health emergency"

Activate emergency measures – like

climate lockdowns

– until climate change is "fixed".
See the end game here? It's just that simple.
Oh, and we won't be able to complain, because "climate denial" is going to be illegal. At least, if prominent climate activists like this one get their way.
That's only a whisper in the background right now, but it will get louder after COP28, just wait.
Until then, like I said, I'm stuck here writing forever.
This article was originally published on Off-Guardian on 30 October 2023:
Why are the globalists calling "Climate Change" a "Public Health Crisis"? – OffGuardian (off-guardian.org)
Our Contributor
Share This Show