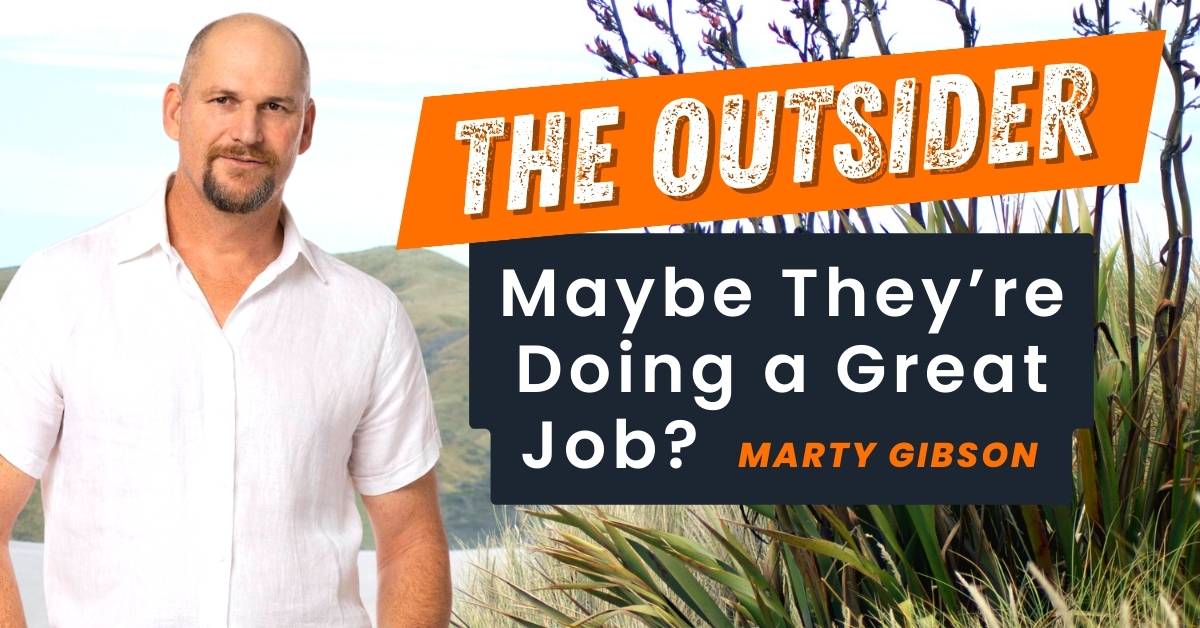 By Marty Gibson
When people tell me about how incompetent New Zealand's politicians and public servants are and what a terrible job they're doing I tend to respectfully disagree.
"Maybe they're doing a great job but you don't know what the job is, or who they're working for?"
When you see things through this lens, the whole clown show of apparent incompetence starts to make sense. When you realise that governments love anything that makes people demand less freedom and more government, suddenly the education system that leaves 55 percent of Kiwi kids functionally illiterate and innumerate makes sense.
Climate change policies that will cripple New Zealand's agriculture, in spite of food production being exempt from our Paris Accord commitments, make sense. Policies that result in more single parent families, make sense.
Western governments' rush to import incompatible immigrants against the wishes and interests of their citizens, makes sense. Fomentation of racial tension makes sense. A prison system that fails to reform criminals, makes sense.
Coddling of violent criminal gangs, and the contrasting deployment of grenade launchers, tear gas, sound cannons and riot police against peaceful Kiwis protesting Ardern-Hipkins Government overreach … makes sense.
One of the most infuriating things about the tens of billions of dollars this Labour Government borrowed (using our children's future ability to pay tax as collateral) is that those of us New Zealanders not swilling at the trough of Finance Minister Grant Robertson's Marxist-redistributive largesse have amazingly little to show for it, except stagflation and the recession announced last month.
Some pigs really are more equal than others.
There have been virtually no major public building projects, and almost every metric says we are worse off now than we were when the bewildered Labour MPs took office five years ago. Everywhere I see broken eggs comrades, but … where is glorious omelette?
This appears to be incompetence, until you start to wonder: cui bono? Who benefits? Who do we owe all this printed-then-borrowed-then-wasted money to? Who benefits from the crushing of New Zealand's — the West's — middle class and the increasing wealth of huge corporations as a result of Western governments' response to Covid-19? Who benefits from the pivot all Western governments made, like a flock of starlings, toward authoritarian rule?
New Zealand has never been more divided.
It could be that we suddenly became more hatefully bigoted and intolerant of differences.
Or it could be that when we are divided, we are much easier to rule, and far easier to conquer.
Marty Gibson has been an engineering polymers technical salesman, a quarry engineer, a used car salesman, and a cleaning contractor. Conceived in Janet Frame's bed and descended from the first white woman born in Poverty Bay, he has worked in shearing gangs, pruned pine trees and driven trucks in road gangs patching potholes. He has been a bouncer, barman, beekeeper, builder, and painter. He drove prostitutes around Wellington, spent five years as a journalist for The Gisborne Herald, and worked as a media and marketing contractor for iwi, medical organisations and polytechs. He has a bachelor's degree in science, and post-graduate qualifications in marketing.
He now lives happily in New Zealand's Florida, Papamoa. He makes olive oil, has a carpet cleaning business, and is a keen gardener, husband and father of three young children.
Our Contributor
Share This Show