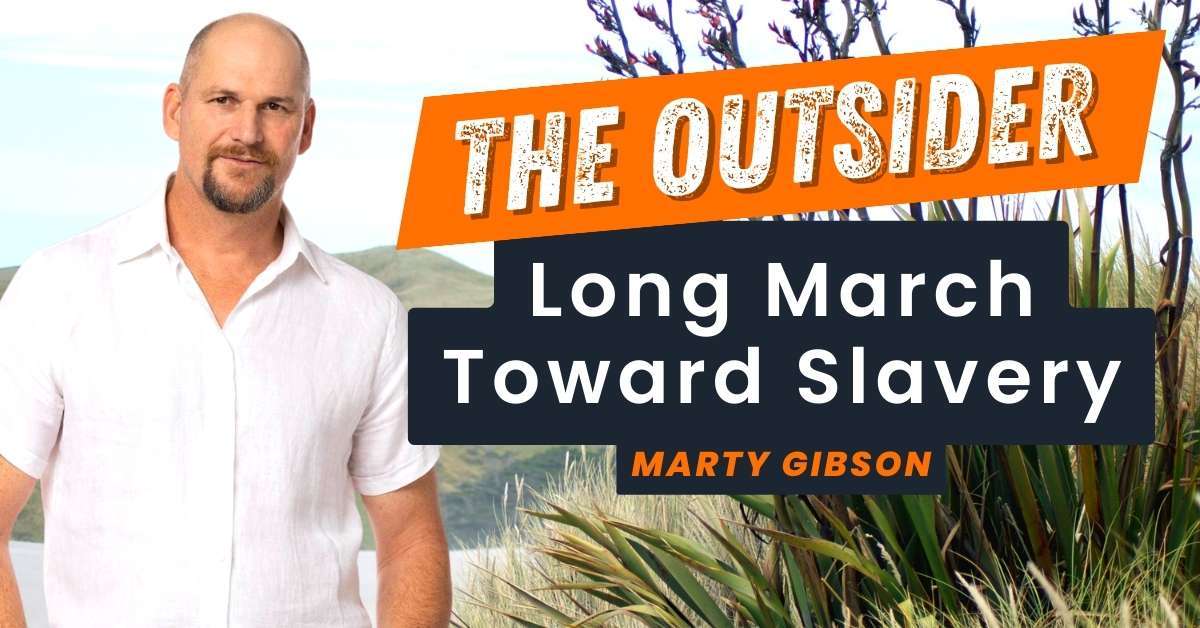 By Marty Gibson
A quiet and hopefully peaceful counter-revolution is brewing in New Zealand against the efforts of politicians, academics, bureaucrats and corporate media.
It seems that hundreds of thousands — perhaps millions — of Kiwis aren't keen on turning our once-proud nation of New Zealand into an ethnostate — if the distribution of 600,000 copies of Julian Bachelor's "Stop Co-Governance" booklet is anything to go by.
An ethnostate is a country populated or dominated by the interests of a single racial or ethnic group. To push back against this idea is not racist, nor is it hateful toward the dominating racial or ethnic group in question. It is a sensible response to an idea that ends in poverty and bloodshed.
Every. Single. Time.
Many babyboomers still think of the protests against the 1981 Springbok Tour with the same joyful nostalgia that a meth addict attaches to their first hit of methamphetamine. It was a time when they were right and the system was wrong, and many (I'm looking at you Simon Wilson and John Minto) have been chasing that heady rush of self-righteousness ever since in increasingly harmful ways.
Many became part of the system, and conflated the struggles of Maori with the struggles of black South Africans. This was buoyed along by Marxist ideas of class struggle that steadily spread through government and academia like cancer, gradually metastasising from there into business and journalism through "the long march through the institutions".
The colonisation by sickly state dependency that dare not speak its name.
For Marxists, "the end justifies the means", and the symbol of the upward-facing fist embodies this. A "class enemy" can be attacked with slander, lies and ultimately violence and annihilation, all to usher in a "utopia of equity" … that never eventuates.
Elderly women can be repeatedly punched in the face by 20-something men, preference can be given to those belonging to a disadvantaged group, on the basis of race, sex, age or perversion.
Lies can be told about the Treaty of Waitangi, media outlets can be paid to exclusively propagandise, and the education system and academia itself can be corrupted with an indulgent smile.
If we look at other countries that embarked on similar adventures, eventually millions of people can be imprisoned, tortured, raped, starved and killed.
Perhaps it is indeed a great idea for Maori elites to have the power of veto over every bit of legislation passed in New Zealand's parliament.
Perhaps they should be given the right to charge Kiwis for the use of forests, land, water, the 5G network and more.
If so, make a case for it. Because calling anyone who disagrees "racist" isn't an argument, it's just squid ink to block debate.
Perhaps New Zealand's race-baiter general, Willy Jackson is right when he says: "The nature of democracy has changed. This is a democracy now where you take into account the needs of people, the diverse needs, the minority needs. It's not the tyranny of the majority anymore, that's what co-management and co-governance is about. It's nothing to fear."
If it is indeed nothing to fear, why is it so important that agreeing with these Maori elites and wet academics — while blocking dissent — is a condition of receiving government funding for New Zealand's media and more?
Was the previous "we are now one people" meaning of the Treaty of Waitangi really a tyranny of the majority? And is a tyranny of the minority necessarily better?
As ACT leader David Seymour said, "It's a sad state of affairs when our constitutional settings are changing and the Government can't put forward a coherent argument. At best they don't understand what they're saying, at worst they're deliberately muddying the water with misinformation."
What we are seeing is an attempt to impose a traditional Maori societal structure on New Zealand, in an unholy alliance with Marxist ideals. Again, that might be "better for everyone", as Marama Davidson and other politicians insist (and as National are cuckolded into going along with) but let's discuss it and remember: Maori were a raiding and slave-owning "might is right" culture.
They have not integrated the shadow of that culture, because they are repeatedly and patronisingly told that everything bad that happens to them is someone else's fault. This lack of insight inevitably informs the direction these Maori elites and their Marxist handmaidens are pushing us in.
In pre-colonisation New Zealand, there was the chiefly class or "Rangatira", a niche now occupied by this well-paid and self-congratulatory "elite" Maori leadership.
There was the Tohunga, or priestly class, a niche now presumably occupied partly by those academics pushing matauranga Maori into the school science curriculum, and steadily edging out physics, chemistry, biology and logic.
Then there were the Tūtūā, or commoners, who "owned nothing and were happy". This explained the receptivity of common Maori to the Treaty, as it gave them those powerfully-motivating rights of ownership and self-determination. Tino rangatiratanga.
This could also explain why the vast majority of ordinary Maori have received mere crumbs from the billions "spent on Maori", and from Treaty settlements. This distribution of wealth from elite Maori to commoners makes the trickle-down of neoliberalism look like Huka Falls.
Life of Maori "commoners" is getting objectively worse each year, and we are constantly told: colonisation is to blame, and the remedy is giving more money to the chiefly class.
Well they would say that, wouldn't they?
Finally we come to those poor wretched slaves, or "Taurekareka". In Maori society, slaves were without mana. Fruits of their labour were taken by the chiefly class without reciprocity.
Their whakapapa — ancestry — could be denigrated, and this slander justified by the need for inter-generational revenge — utu for some historical insult.
If a slave had a child with a rangatira or commoner, that child was not a slave. Slaves were under no circumstances allowed to get lippy with the chiefly class, and Maori commoners would never stick up for them, lest they share their fate.
Does any of this sound familiar?
My argument here is that Maori elites have a certain attitude — perhaps subconsciously — to ordinary non-Maori taxpayers.
It is a traditional attitude of chiefs … to slaves.
"The food of chiefs is conversation, the food of commoners is inattention" as the whakatauki goes.
This inattention is increasingly insisted upon, and it's high time it stopped.
Objections of ordinary Kiwis to this sleepwalk toward an ethnostate don't arise predominantly from racism, colonising attitudes, or from a racist hatred of Maori.
We are friends, we are whanau.
We all know this proud nation owes much of its sense of identity and pride to Maori and Maori culture.
There was episodic injustice toward one another throughout our history, but that need not determine our future together.
My suspicion is that what Maori perceive as Pakeha anger or even racism toward them is rather the visceral rejection that people with a proud history of abolishing slavery and overthrowing tyrants feel when we're talked to, or treated like we are slaves.
Let's get back to being friends and family.
Whanau if you prefer.
Our Contributor
Share This Show